NZ Open Masters Championships
2023 INFORMATION:
When: 3-5 November
Where: Hawke's Bay Aquatic Centre
Times: Starting around 10am on the 3rd and finishing no later than 6pm on the 5th. All of this will be dependent on team entries and we will give you better timings once entries are closed.
.
Team entries have now closed!
.
.
.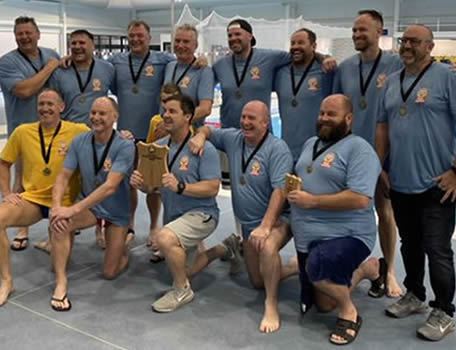 2022 NZ OPEN MASTERS CHAMPS
The Inaugural New Zealand Open Masters Championships was won by the 50+ Marist Kaumatua from Auckland. From 21-24 October, 6 Masters teams competed for the title in the brand new Hawkes Bay Aquatic Facility (doors opened 1 September 2022).
Local heroes, the Hawkes Bay Water Polo Club, hosted the first ever national water polo event in the region on behalf of NZWP.
The Hawkes Bay Rogues also entered a team and finished 5th. Teams were made up from all over the country to compete, with players from Muriwai to Dunedin participating.
The Gold Final was played between Patu's Pirates and Marist Kaumatua. The Kaumatua were up 6-5 but Patu's Pirates equalised in the last second of the game through a shot from Axl Wohlfarth to set up a penalty shoot-out and determine the winner. Goalkeepers Zane McAlpine (Patu's Pirates) and Chris Wall (Marist Kaumatua) had been outstanding throughout the game, however Marist Kaumatua's Rob Barton managed to secure the win by nailing his winning penalty into the top-right corner.
The 2022 NZ Open Masters Champions were crowned with the help of Sir Graeme Avery. With the first NZ Open Masters Championships in the books, New Zealand Water Polo wishes to thank all participants, referees, our fantastic hosts Steve and Tara Knights and the Hawkes Bay Water Polo crew, as well as the new Hawkes Bay Regional Aquatic Centre.
Bring on the 2023 Edition!
Final Standings:
1st: Marist Kaumatua

2nd: Patu's Pirates

3rd: Capitol City Polo Bears

4th: Barbarians

5th: Hawkes Bay Rogues

6th: The Incredible Has-Beens (Invitational Team)