Coaching Team
Senior Women's Team/Squad: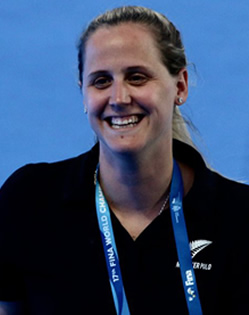 Head Coach - Angie Winstanley-Smith:
Angie arrived in New Zealand over 8 years after a long professional career. Angie played at all levels - Olympics, World, European, World League and 10 consecutive Champions leagues. She played professionally in France and Spain and amassed over 300 caps spanning 12 years for her home country of Great Britain.
Upon arriving in NZ Angie secured a role in sports management at Diocesan where she led the school Water Polo. Over the last few years Angie has occupied the Director of Sport Role. Over the years Angie has secured many National and Regional titles - ranging from the AIMs Games to NZSS titles and National Club competitions. Recently Angie was selected for the HPSNZ Te Hapaitanga women in sport program where she sits alongside fellow female HP coaches.
Head Coach of the National Women since 2017, Angie has helped grow overseas opportunities for the kiwi athletes and slowly moving up the World Rankings the NZ Women are respected by the top polo nations.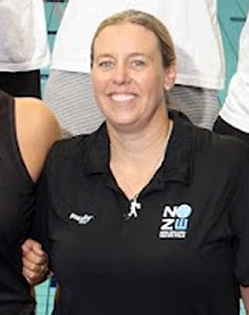 Assistant Coach - Megan Thompson:
Megans commitment and dedication to our sport can not be challenged.
She has played for Hutt in all age groups and for New Zealand for many years. She has coached all age groups and is the current NZ Senior Womens assistant coach and Hutts Womens League coach. She has always been a great role model to those she works with.
Megan fulfilled a dream to attend University in the USA at Hartwick and was an All Star University player. She followed her studies with coaching at University in the USA.
Not only does she strive for excellence in sport she is now completing her MBA.
Team Manager - Mandy Anderson:
Mandy has a background in sports administration and management, and is currently Director of Sport at Rangi Ruru Girls School in Christchurch.
Mandy has extensive experience in managing school and regional sports teams, including regional netball teams at age group and senior level for four years, before becoming involved in the Canterbury Waterpolo community as an age group manager in 2017. For the past two years Mandy has been the manager of the Canterbury Senior & U21 Women's teams.
In 2019 Mandy accompanied the NZWP Senior Women's team to Canberra for a 3-test series vs Australia and has been reappointed at the non-travelling manager for the 2022/2023 senior women's squad in the build up to qualifying for the 2024 Paris Olympics.
Head Coach - Matt Claridge:
Under 20 (Born 2003) Women's Team/Squad:
Head Coach - Zoltan Boros:
Zoli hails from Szolnok in Hungary, where water polo has a long-standing history. He represented the Hungarian Youth and Junior Men's sides, and played in the prestigious OB 1 (top division) from 1993 to 2005 for Szolnok and Szeged, in roughly 250 games. Upon moving to New Zealand, he was selected for the NZ Men's Team that achieved the NZ men's first and only victory at a World Championship (Melbourne 2007), defeating Japan, and finishing 15th. Zoli became the captain of the team later that year, which played Australia in a 3 test series in Auckland, for the 2008 Beijing Olympic Qualification.
Zoli started his coaching career whilst in Hungary and in New Zealand he has coached Canterbury Teams from U14 to Senior Level, and he is currently the longest serving school coach in the South Island, in charge of the Rangi Ruru Premier team. Furthermore, he is the head coach of the Canterbury Women's team who recently returned to the National League and the U21 Canterbury Women's Team. Zoli has coached the NZ Schoolboys to retain the shield in 2019 against Australia in Balina, New South Wales. He has also coached and managed the NZ Men's Team for a brief period.
Besides coaching Zoli is a keen sportsperson, and he was still actively playing in 2019 in the National League and has been competing in ocean and open water swim events, which culminated in the successful swim crossing of the Cook Strait in 2017.
Assistant Coach - Jordan Milich Misikini:
Team Manager - Simon Breen:
Under 18 (born 2006) Women's Team/Squad:
Head Coach - Paul Swindells:
Paul is honoured to be a part of the New Zealand water polo women's coaching team. With 28 years' experience across the Water Polo community, Paul started out as player in 1992, quickly found a natural fit for being a leader and grew that into a coaching career from 1995. Coaching triggered a passion of developing people to be the best they could be, so Paul completed a Diploma in Sports Recreation and Leadership, Specialised in Coaching.
Throughout his professional career he's been lucky enough to be a part of many different facets of the construction industry, naturally using strengths built from the Water Polo community allowed him to gravitate towards leadership roles heavily involving mentoring, employee development, cultivating ways of working and empowering colleagues.
Paul is excited to work with New Zealand Water Polo to lead our athletes past their personal boundaries in the pursuit of excellence.
Assistant Coach - Rachel Rosset:
Under 18 (born 2006) Men's Team/Squad:
Head Coach (interim) - Hamish Booker:
Assistant Coaches - Rahiti Teokotai-White & Josh Potaka:
Team Manager - Michelle Schuler:
Under 16 (Born 2008) Women's Team/Squad:
Under 16 (Born 2008) Men's Team/Squad: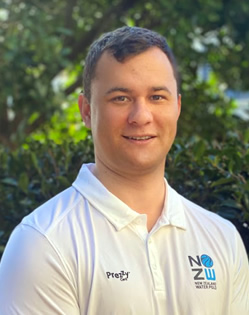 Head Coach - Rahiti Teokotai-White:
Rahiti first began coaching at Hamilton Boys' High School as a Year 12 student in 2010 after being asked to help out with the school's Junior team. Over the years his passion and dedication to coaching became apparent, coaching several schools in Hamilton as well as various age group teams for the Waikato club. After being taken on initially as an apprentice coach with the NZ U20 squad, he has gone from strength to strength with the National Team Programme, attending World Championships with the Junior and Youth teams in 2017 and 2018, as well as coaching the New Zealand Secondary Schools team across three separate campaigns, winning the Trans-Tasman and Tri Nations trophies and retaining the Trans-Tasman shield in each campaign.
He has been involved in the sport across a range of capacities including as a Player, Manager, Teacher in Charge, Club Chairman, Committee Member, Referee and Coach earning a NZWP service award in 2021. He also leads the Hamilton Boys' High School programme, taking the team from playing in the B Division to three consecutive NZSS finals, winning the Championship for the first time in 2021. He continues to be active in the Waikato Club across several age groups on the boy's side, coaching the U18 Men to Bronze at the 2022 National Championships.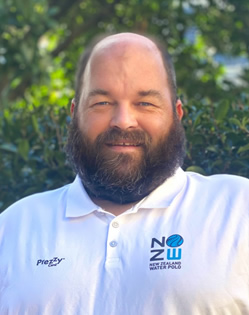 Team Manager - James Ross:
James played Water Polo for Hutt Club as a teenager, before the sport took a backseat for a number of years. That changed in 2007 when a group of Palmerston North Boys' High School students wanted to play at Nationals. Since that time, James has had a big involvement with coaching, managing and administration of water polo for PNBHS and Manawatu Water Polo. This includes coaching everything from U12's through to Senior Men's.
He was the Manager for the New Zealand Secondary Schoolboys team from 2013-2015, the Manager for the Born 2003 squad and the Manager for NZ Youth Men's team in 2022.