Senior Women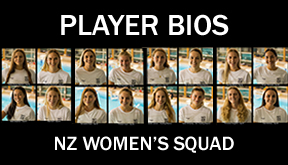 The New Zealand Senior Women's Team team and squad consists of players from school-age to university students, and from professional players overseas to players in the workforce. It is our aim to assist and develop those athletes committed to the programme and that fulfill the requirements set by the High Performance Programme (HPP) to be successful on the highest water polo stage possible.
Athletes in this programme are currently led by head coach Angie Winstanley-Smith. Angie brings a wealth of experience and understanding of the international water polo landscape through her experience as the head coach of the Senior Women's team over the past four years.
.
FINAL OPPORTUNITY TO QUALIFY FOR THE 2024 OLYMPICS
The NZ women have a final opportunity to qualify for Paris at the World Aquatics Championships in Doha in February, 2024
There will be 2 places remaining! New Zealand will have to finish 1st or 2nd out of those who haven't already qualified. The 8 of the countries already qualified will include; the host country team, 5 continental qualification teams, and the 2 highest placed teams from the 2023 World Aquatics Championships in Fukuoka. Read more about qualification.
The draw will have a significant impact on their opportunity to qualify.
.
Photo credit: Niki Paterson
CANCELLED! Read More Here!
CONGRATULATIONS to the following athletes who have been selected to represent New Zealand at the ANOC Beach Games in Bali.
Kate Henderson (Marist) - Captain, Lucia Doak (North Harbour), Gabrielle Doyle (North Harbour), Jessica Ingram (Sea Wolf), Isabelle Jackson (Atlantis City), Abbey Keyte (Marist), Agatha Weston (Canterbury) Non-Travelling Reserves: Holly Dunn (Atlantis City) & Alisha Winstanley (North Harbour) Coach: Megan Thomson
NZ Women's Squad:
Name (position) NZ Club
Lucia Doak (UT) North Harbour University of California, San Diego
Bernadette Doyle (RW) North Harbour Auckland
Elizabeth Gault (UT) Atlantis University of Hawaii
Kate Henderson (UT) Marist Auckland
Emmerson Houghton (UT) Waitakere Spandau 04, Berlin
Kaitlin Howarth (UT) North Harbour Fresno State University
Jessica Ingram (GK) Sea Wolf Auckland
Isabelle Jackson (CB) Atlantis Michigan
Bridget Layburn (GK) North Harbour University of Hawaii
Gabby MacDonald (LW/RW) Atlantis Auckland
Morgan McDowall (UT) Atlantis Auckland
Katie McKenty (UT) North Harbour Auckland
Gabrielle Milicich (RW) Marist Auckland
Jessica Milicich (GK) Marist Spandau 04, Berlin
Emily Nicholson (CF) North Harbour Water Polo Tenerife, Spain
Millie Quin (LW/RW) Atlantis Auckland
Sophie Shorter Robinson (CF) Marist Arizona State University
Darcy Spark (CB) North Harbour Auckland
Eve Weston (UT) Canterbury Eger Water Polo, Hungary
Alisha Winstanley (GK) North Harbour Auckland
Development Squad:
Samantha Bentley (UT) North Harbour Auckland
Samantha Bright (GK) Atlantis Mount St Marys
Gabrielle Doyle (LW/RW) North Harbour Auckland
Holly Dunn (RW) Atlantis Auckland
Abbey Keyte (RW) Marist Auckland
Chelsea Oliver (GK) Marist Cal State University Long Beach
Ella Palmer (CF) Sea Wolf Brown University
Clodagh Weir (LW) North Harbour Auckland
Agatha Weston (UT) Canterbury Christchurch
*Please note further athletes will be added to the National Women's Development Squad post the U20 World Championships in September.
The establishment of the Development Squad should be viewed as a positive step that provides additional opportunities for athletes – particularly those who have progressed past the international age group level by offering them a pathway to reach the standards expected as a National Women's Squad athlete. There will be a revolving door policy in place where athletes can move between Squads depending on progression. Generally, athletes will need to show an upward progression trajectory.