Our Olympians
Men's water polo was the first team sport ever to be played at the Olympic Games, becoming an Olympic sport at the Paris 1900 Games. It wasn't until the Sydney 2000 Olympics that women's water polo was introduced. Whilst New Zealand's national teams often punch above their weight on an international level, New Zealand has not yet qualified for the Olympic Games. At Rio 2016, eight women's teams competed and twelve men's.
New Zealand is eligible to qualify for the Olympic Games via a number of avenues: essentially via an Oceania Qualification Series against Australia or by placing amongst the top teams at an Olympic Qualification Tournament, dependent on a number of factors.
Our New Zealand Women placed 10th at the Budapest 2022 FINA World Championships.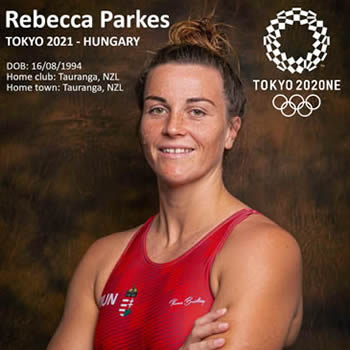 Rebecca Parkes (Bronze) - Tokyo 2021
Rebecca Parkes (born 16 August 1994) competed for Hungary at the 2021 Olympic Games in Tokyo, Japan. Rebecca started her journey of water polo playing Flippaball in the Pāpāmoa league. She attended Mount Maunganui Intermediate, Mount Maunganui College and played for Tauranga Water Polo before moving to Auckland to pursue her Olympic Dream.
In 2011 Bex transferred to Rangitoto College for years 12 and 13 and continued making NZ teams, in particular the NZ U18 Women (World Champs in Perth, 2012) and New Zealand Schoolgirls.
Bex played for Tauranga at U12, U14, and U16 age groups before playing for Waitakere Women in Year 11, then North Harbour women while she was Rangitoto College. Bex played all age groups U12, U14, U16, and U18's before beginning her Senior National League career first with Waitakere and then playing for North Harbour for the rest of her years in New Zealand. Bex played for Rangitoto College while in Auckland where the team went on to win the NZSS title 3 years running.
In 2014, Rebecca moved to Eger, Hungary where she played professionally for 3 years before moving to Budapest where she has continued to excel in her professional water polo career. After persevering through multiple injuries (including knee surgery and a broken rib which saw her sidelined for quite some time) as well as Covid-19 interrupted seasons, Rebecca excelled for Hungary at the Tokyo Olympics as one of the best Centre Forwards in the world, bringing home an Olympic Bronze Medal and getting recognized by the Media as part of the 7 best female players of the Olympics.
Her Dad, Rob Parkes was a constant figure in Bex's sporting life, co-coaching, managing and fundraising for all the teams Rebecca played for. Bex has had wonderful support throughout her water polo journey from not only her Dad but mum Trish and her family to whom she is very close.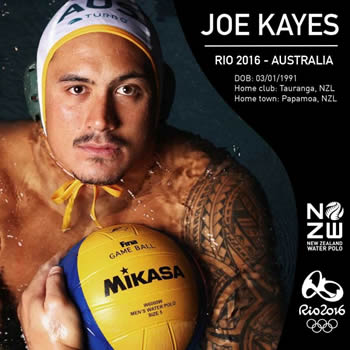 Joe Kayes - Rio 2016
Joseph Kayes (born 3 January 1991) competed for Australia at the 2016 Olympic Games in Rio de Janeiro. Kayes was born in New Zealand and grew up in the Tauranga beach suburb of Papamoa. He attended Mount Maunganui College. Kayes' father, Paul, founded the Tauranga Water Polo club in 2002, where Joe played from a youngster until the senior age groups.
He represented NZ at various levels including the junior team that came 13th at the FINA World Championships in Croatia, 2009, and the senior men's team at the FINA World League in Japan, 2008.
Kayes played for Hungarian clubs Szeged Beton for four years and OSC for one year. With Szeged and later OSC he was a part of teams that won Gold in a number of Hungarian Cups and came 3rd multiple times in the Hungarian National League.
During those seasons, he played for the Freemantle Mariners for two years, including being a part of the team that won the Australian title in 2009; and more recently for Cronulla for two years.
He was granted Australian residency in 2015. At the Rio 2016 Olympics, Kayes scored at least one goal in each match. Australia missed out on the quarter-finals after Hungary advanced ahead of them due to goal count-back.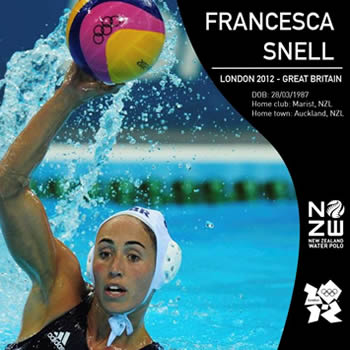 Francesca Snell - London 2012
Francesca Snell (born 28 March 1987) competed for Great Britain at the 2012 Olympic Games in London, England. This was the first ever Great British women's team to compete at the Olympics.
Snell began her playing career in New Zealand at Auckland's Epsom Girls' Grammar and the Marist Water Polo club, representing New Zealand at age group, schoolgirls and national junior and senior women's level, including the 2007 FINA World Championships in Melbourne.
She won several national titles with Epsom Girls' Grammar and Marist Auckland, before emigrating to London in 2009 and joining the Great Britain programme. At the London Games, Snell scored three goals in Great Britain's 9-7 loss to Spain in the quarter-finals, and then another three in their 11-9 loss to Russia.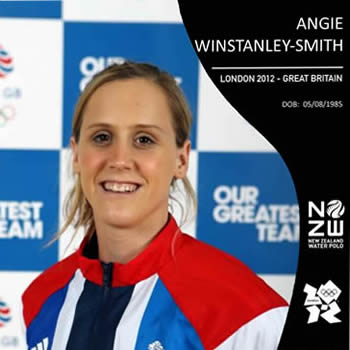 Angie Winstanley–Smith - London 2012
Angie Winstanley–Smith (born 5 August 1985) competed for Team Great Britain at the London Olympics kicking off game one with a hattrick in a close 7-6 loss to Russia. Angie was also fortunate enough to have been selected for the Olympic torch relay and ran through York City center with the Olympic flame.
Angie made her debut for the British team at the 2003 World Championships in Barcelona and played in every international game until her retirement after the European Championships in Budapest in 2014. Her 11-year Senior International career included World League, European, World University and World Championship Campaigns.
Angie spent most of her playing career in Europe mainly at Olympic Nice Natation where she won several French titles. Over her career Angie played in 10 consecutive European Club Championships and played for Mataro (Barcelona) later in her career. Growing up in the Northeast of England, Angie was 1 of 2 girls in her mixed school team and was a Great Britain Junior Representative swimmer.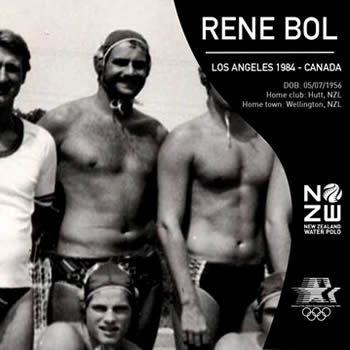 Rene Bol - Los Angeles 1984
Rene Bol (born 5 July 1956) first represented the senior New Zealand team aged just 17.
Standing at 6ft 2ins and weighing in at 99kg, the Wellington-born Hutt Club player later sought his international future overseas and represented Canada, winning bronze medals for his adopted country at the 1979 and 1983 Pan American Games.
Bol represented Canada at the 1984 Los Angeles Olympics, where they placed 10th.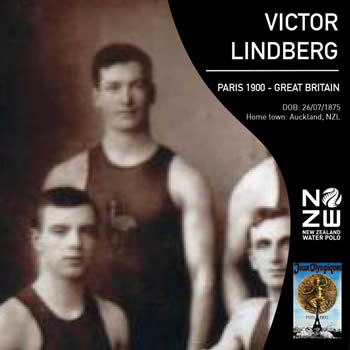 Victor Lindberg - Paris 1900
Fijian-born New Zealander, Michael Victor Alexander Lindberg, known as Victor Lindberg, competed for Great Britain in water polo at the 1900 Olympics. He was the first New Zealander to compete in any sport at an Olympic Games. He is also New Zealand's first medalist, and New Zealand's first gold medalist at an Olympic Games: he wasn't officially recognised to have done so until 2014.
Lindberg made his name in swimming across the North Island in the 1890s, before travelling to Australia to further his career. He and a group of friends in Sydney then went on to England. They were chosen to play water polo at the Olympics in Paris, representing Great Britain as the Osborne club where they won all of their games.
He returned to New Zealand after the Games and lived in Auckland until he died in 1951, aged 75.
It wasn't until 1908 that New Zealand won its own Olympic medal.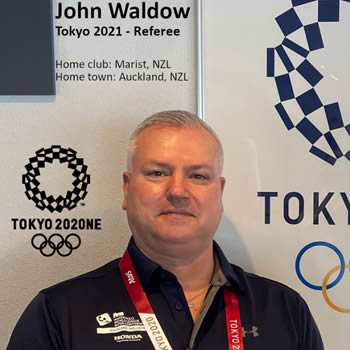 John Waldow - Tokyo 2021
John Waldow was selected to referee at the 2021 Olympic Games in Tokyo, Japan. This was John's first Olympics, after having officiated at three Olympic Qualifiers previously in his career (1992, 1996 and 2016). John was born and raised in his Canada, where he was a successful coach at University, Club, Provincial and National level. After having moved to New Zealand from Canada in the nineties, John had his first International Test Series in 1999, New Zealand v. South Korea in Auckland. By 2002, John had worked himself up to achieve FINA Referee status.
A series of International appointments followed rapidly, with assignments in Australia (AWPL), Argentina, USA, Japan (World Championships and World League) between 2003 and 2008. In 2016 John officiated at the Women's Olympic Qualification Tournament in Gouda.
John spent the next few years between 2017 and 2020 officiating in Hungary, Czech Republic, Montenegro, Serbia, Australia, South Korea, Portugal and New Zealand.
Nominated for Referee of the Year in 2018 and 2019, John has been in the position of National Referee Director at New Zealand Water Polo since 2016 and has spent the past 5 years developing referees all across the country.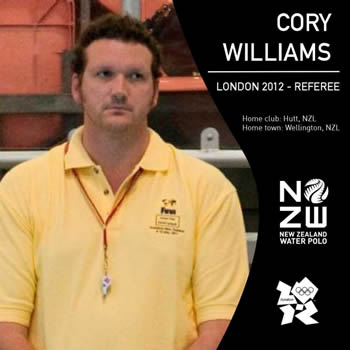 Cory Williams - London 2012
Cory Williams refereed at the 2012 Olympic Games in London, England. As a neutral referee, he refereed the women's quarter-final between Great Britain and Spain. He comes from Wellington, New Zealand, and attended Rongotai College.
His refereeing CV is decorated: Williams' career as a FINA referee spanned 15 years. He officiated at FINA World Championships - most recently Shanghai 2011, Barcelona 2013, and Kazan 2015, as well as numerous other FINA international events.
He was selected as a neutral referee for Rio 2016 but retired from refereeing in August 2015 following the Kazan 2015 World Championships.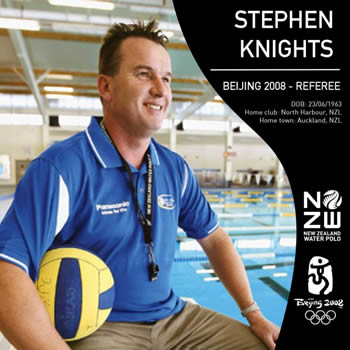 Stephen Knights - Beijing 2008
Stephen (Steve) Knights (born 23 June 1963) refereed at the 2008 Olympic Games in Beijing, China.
A former senior New Zealand international, Steve enjoyed a long and successful playing career which included stints playing in Australia and the USA.
He later coached several New Zealand national age-group teams and also guided Westlake Girls' High School to back-to-back-to-back secondary school titles from 2014-2016.
Introduced to refereeing through his father, Geoff, the pair became the first father-son combination to officiate at a World Championships together in 1994 in Rome.
Steve has since gone on to referee at a further six World Championships, but his water polo career highlight came when he was selected to officiate at the 2008 Beijing Olympics.
Steve currently lives in Hawke's Bay and is working with the local team to develop water polo in the region.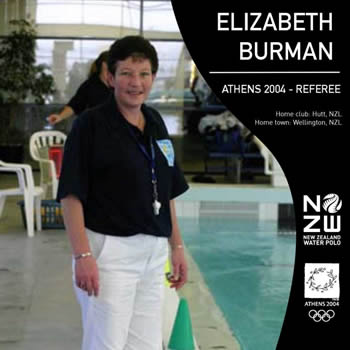 Liz Burman - Athens 2004
Elizabeth (Liz) Burman refereed at the 2004 Olympic Games in Athens, Greece.
Her playing career began in 1973, playing for the Hutt Club and achieving selection in the NZ age group and senior teams throughout many years. Burman coached in all levels for the Hutt Club, for Wellington and also New Zealand.
Her refereeing career began in 1983. She refereed at several FINA World Championships, and in 2004 became the third woman-ever appointed to referee at any Olympic Games.
Burman was often head referee for NZWPA at numerous events including national and Pan Pacific championships.
Burman currently lives in Perth, Australia, and often returns to New Zealand to referee the biennial Pan Pacifc Youth Water Polo Festival.